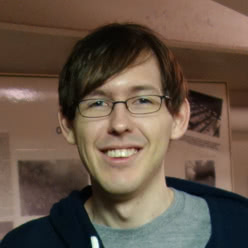 Clay
Gregory
Hi, I'm Clay — I live in Champaign, IL, where I'm currently taking a break from professional life to explore on my own time.
I write code for work and for play. Over the course of my career, I've built cloud-native backend services, designed and developed web applications, and dabbled in Android and iOS development. If you're looking for a full stack developer, contact me! I'll be open for something new by the middle of 2017.
I have a master's degree in bioinformatics from the University of Illinois at Urbana-Champaign where my research focused on mobile devices and ubiquitous computing in healthcare. Before that, I studied at Illinois College, a liberal arts school in Jacksonville, IL, where I majored in computer science.
If you'd like to get in touch, email me: clay@claygregory.com